Cool! Strip Club Party Bus!
LINK

- 12/10/2005 22:45 EST

Limo service
Here's a nice view of the inside of several stretched limos.
Looks like a cross between a long narrow bus, a bar, and a night club.
LINK

- 12/10/2005 22:40 EST

Iran: move Israel to Europe
That's easy, just pick it up and move it across the water.
LINK

- 12/9/2005 10:35 EST

Santa found lynched in Miami, Florida
He's blindfolded and he's got a large noose around his neck.
Mr. Cluas was pronounced dead on the scene.
Don't forget to check out the slide-show.
LINK

- 12/9/2005 10:27 EST

Firefox 1.5 is out.
Supposed to be better, of course.
I haven't tried it out extensively yet.
So far it seems more stable. It displays pages more predictably. In earlier versions, if you refresh firefox, the page displays text at slightly different x,y coordinates. That is, the same paragraph could be a little higher or lower on the page.
Sometimes you'll see a large blank space below where you would expect the page to end. Sometimes, it won't happen.
LINK

- 12/6/2005 16:19 EST

Rapper Kills Himself With Pen Gun
St. Paris, Ohio (AP) -- Steven Zorn had put the pen gun to his head and clicked before, apparently thinking it was jammed and would not work.
But on the third try, the tiny silver pistol went off as the 22-year-old budding rap artist was drinking to celebrate an impending record deal. He died at a hospital.
According to his family, the shooting was an accident.
Here you go. Try pengun.com. Don't know where you can get one. I think only law enforcement can get those.
LINK

- 12/6/2005 9:04 EST

Groping with Ahrnold (Arnold Schwarzenegger)
See Ahrnold in Rio de Janeiro groping mulattos.
His favorite body part: the ass.
LINK

- 12/5/2005 20:43 EST

IBM makes computers that heal themselves.
Haven't we heard this one before many years ago?
Who knows.
LINK

- 12/5/2005 20:21 EST

Sleep rape?
Scott Falater said he was asleep when he raped a woman he didn't know.
He also said he was asleep when he killed his wife.
And doctors testified he was indeed asleep!
LINK

- 12/4/2005 4:26 EST

Man charged with beheading his 3-year-old stepdaughter, whose body was unidentified for nearly four years.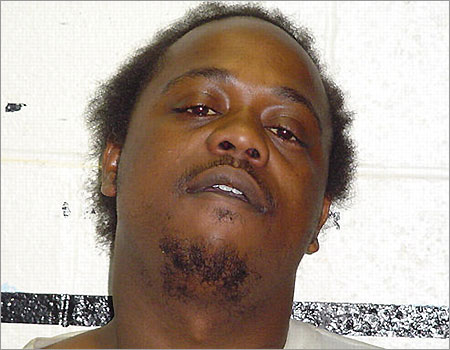 Here's another description

LINK

- 12/4/2005 3:56 EST

Vatican bars all gays as priests
The Washington Times reports
The Vatican's long-awaited new guidelines on homosexual seminarians were released yesterday, barring even celibate homosexuals from seminary.
"Those who are actively homosexual, have deep-seated homosexual tendencies or support the so-called gay culture" should be barred, the nine-page document said, chiefly because the priest represents Jesus Christ as "head, shepherd and spouse" of the church.
LINK

- 12/02/2005 11:16 EST

Eleven through thirteen year old Black Boys Sought In Rape Of Women
Orlando police are searching for three people, including an 11-year-old, accused of kidnapping two women at gunpoint and raping them in a field, Local 6 News has learned.
LINK

- 12/02/2005 11:14 EST

| | |
| --- | --- |
| | |
| Whipper | Whipped |
Here she is, Lady Sage! I found her!
So this is the lady Abraham Alexander paid $30000 to whip him.
Here are some quotes from a satisfied customer posted on her website.
She combines great beauty with a sense of humor and a caring personality.
Her piercing green eyes, beautiful hair, sexy shoulders and slim figure had me entranced.
My heart was pounding when I knocked on Her door.
She then ordered me into Her studio to undress and wait for Her.
I was powerless to resist Her when She walked up behind me and put cuffs on my wrists and ankles.
-- A Devoted and Appreciative Slave
LINK

- 12/2/2005 10:06 EST

Abraham Alexander spent $30000 in charity money to fly in a dominatrix to whip and spank him.
Lady Sage - who goes by her real name, Pam DeBord, outside her dungeon says on her Web site that she charges $1,000 a day plus expenses to travel to clients.
On top of that, clients pay $250 an hour for her spanking services.
LINK

- 12/1/2005 10:59 EST

Technology provider UnifiedRoot, based in Amsterdam, has begun leasing Internet addresses that can end in any word, rather than in .com, .org, .net or other top-level domains.
This means problams for ICANN. Internet Corporation for Assigned Names and Numbers is responsible for .com/org/net top level domain names.
LINK

- 12/1/2005 10:02 EST

The alternative webmaster glossary (humour)
LINK

- 11/29/2005 9:25 EST

Get up to 10 years of jail time for Holocaust denial
VIENNA (Reuters) - British historian David Irving, known for his controversial views on World War Two, must stay in custody in Vienna while he is charged with denying the Holocaust, a court ruled on Friday.
LINK

- 11/28/2005 20:59 EST

Parents of deceased 3-month-old girl sought by Fort Lauderdale police
She had .47% alcohol in her blood stream.
They probably wanted to kill the infant.
LINK

- 11/28/2005 20:44 EST

Sports Dignity dot com
(warning: nudity)
LINK

- 11/28/2005 20:36 EST

Remember Bob Dougherty? He's the guy who got his rear end glued to a toilet seat in a Home Depot customer toilet. It's not the first time this happened to him. And it's not the first time this kind of thing happened. Appearantly, it's happened quite a few times in the UK.
Larry Borovay was inspired by this and started gotglued.com.
LINK

- 11/28/2005 20:23 EST


- -

581 total