Steve Ballmer sells Windows 1.0
Silly Steve Ballmer Windows 1.0 advertisement:
LINK

- 7/20/2008 22:09 EDT

400 manhole covers stolen from city
FLINT, Mich. - Officials in Flint, Mich., say they've had to replace hundreds of manhole covers and grates that were probably stolen and sold for scrap.
The Flint Journal reported Monday that nearly 400 cast iron covers and grates have been taken from streets in the past year. A cover can fetch $20 from a scrap yard but can cost the city more than $200 to replace.
LINK

- 7/16/2008 09:33 EDT

Magazine: The New Yorker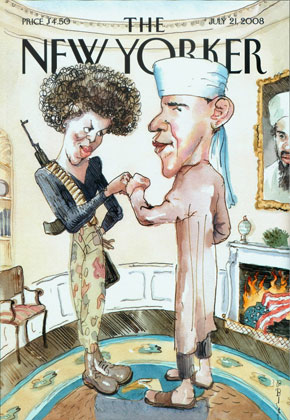 LINK

- 7/14/2008 08:56 EDT

Just like mom used to make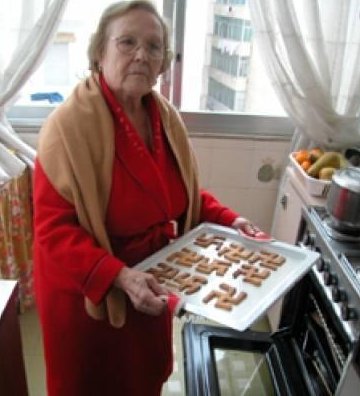 LINK

- 6/30/2008 03:42 EDT

Spanish parliament to extend rights to apes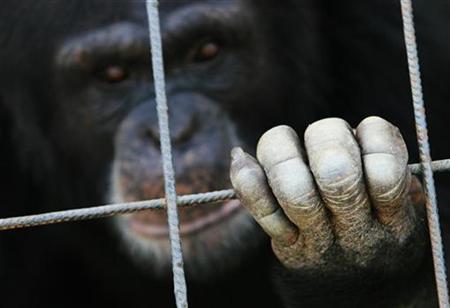 MADRID (Reuters) - Spain's parliament voiced its support on Wednesday for the rights of great apes to life and freedom in what will apparently be the first time any national legislature has called for such rights for non-humans.
Parliament's environmental committee approved resolutions urging Spain to comply with the Great Apes Project, devised by scientists and philosophers who say our closest genetic relatives deserve rights hitherto limited to humans.
"This is a historic day in the struggle for animal rights and in defense of our evolutionary comrades, which will doubtless go down in the history of humanity," said Pedro Pozas, Spanish director of the Great Apes Project.
Spain may be better known abroad for bull-fighting than animal rights but the new measures are the latest move turning once-conservative Spain into a liberal trailblazer.
LINK

- 6/28/2008 20:11 EDT

The Ass, The Cock, and The Lion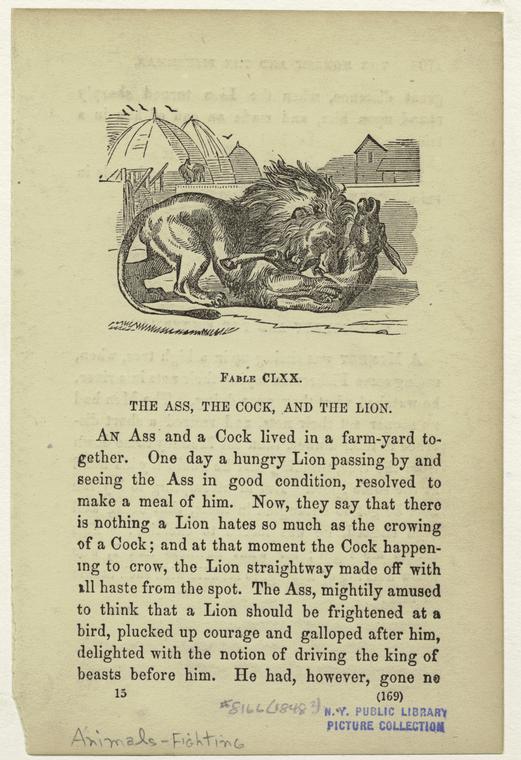 LINK

- 6/27/2008 14:36 EDT

Ronald McDonald Arrested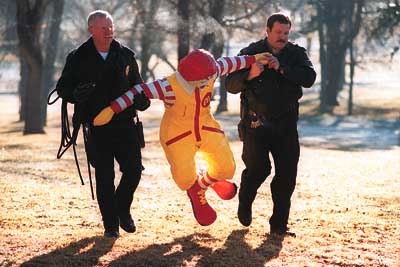 LINK

- 6/26/2008 15:58 EDT

An Italian man kidnaps ex-girlfriend, makes her iron his clothes and wash his dishes
ROME (Reuters) - An Italian man was arrested on suspicion of kidnapping his ex-girlfriend from a pub, taking her home and forcing her to iron his clothes and wash the dishes, police said Monday.
The 43-year-old man dragged the woman out of a pub in the port city of Genoa, shoved her into a car and took her to his home where he made her iron and wash dishes after threatening her, they said.
LINK

- 6/18/2008 08:48 EDT

Protesters panic over the Crap Cannon - Does it exist?
Activists planning protests at the forthcoming Democratic National Convention in Denver are wary of a police weapon they refer to as "Crap Cannon."
When used, it makes victims loose control of their bowels. Dosen't that make you weak in the knees?
Read more...
LINK

- 6/18/2008 07:28 EDT

Computer Engineer Hans Reiser Could Disclose Location Of Wife's Body
Computer engineer Hans Reiser may lead investigators to the body of his wife, who disappeared in September 2006.
A jury convicted Reiser on first-degree murder charges in April. Reiser could face 25 years to life in prison, but he is trying to negotiate a reduced sentence in exchange for telling authorities where to find the body, according to a report in Wired.
Thirty-one-year-old Nina Reiser was last seen dropping off the couple's two children at Hans Reiser's home in Oakland, Calif. Police found her vehicle abandoned with groceries, her pocketbook, and her cell phone inside. The cell phone's battery had been removed, preventing investigators from tracing her whereabouts from cell phone tower signals. Hans Reiser's own cell phone battery had been removed as well.
Reiser removed a front seat from the Honda CRX he had driven and hosed down the interior of the car, which contained books on murder and a sleeping bag cover with Nina Reiser's blood. Reiser and more than 35 other witnesses took the stand during the trial, which lasted nearly six months. Many of the witnesses testified about Hans Reiser's unusual statements and behavior before and after his wife disappeared.
Reiser's lawyer tried to convince the jury that the mother of two may have fled to Russia and hid or that she may have been the victim of foul play at someone else's hands. However, there was no evidence to support those claims.
During the trial, a jail inmate testified that Hans Reiser rushed toward a television to hear a news report about a body that was found in Oakland Hills. The inmate, who said he received no offers for special treatment, testified that Reiser waited through commercial breaks and other reports and seemed to lose interest when he learned the body was a black man.
LINK

- 6/17/2008 09:35 EDT

Man feels fine after being shot in head by nailgun
SHAWNEE, Kan. (AP) -- A suburban Kansas City man accidentally fired a 2.5-inch nail into the top of his head, but says he now feels fine after a doctor used a claw hammer to remove it. The mishap occurred Friday while George Chandler, of Shawnee, and a friend were working on a backyard project.
The nail gun hose became tangled, causing the powerful tool to fire once. Chandler said Monday he told his friend he didn't know where the nail went, but he felt a sting on the top of his head.
Soon they discovered that the nail was driven into Chandler's skull, so they called an ambulance. He was rushed to a hospital, where a doctor used a common claw hammer to remove the nail, Chandler said.
LINK

- 6/11/2008 09:34 EDT

Here are lots of movies uploaded to youtube by a user "mskrider"
Like this:
LINK

- 6/11/2008 01:35 EDT

Remember Mexi-fornia?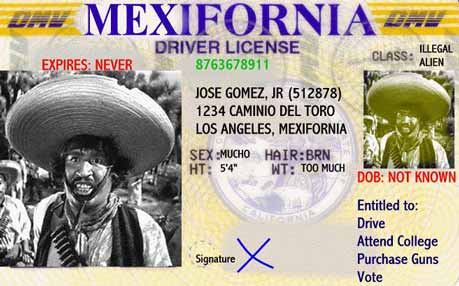 Here's the source:
LINK

- 6/7/2008 15:34 EDT

Andrew Meyer vs. MC Hammer. DON'T TASE ME, BRO!
LINK

- 6/7/2008 06:38 EDT

Office Worker Goes Beserk
LINK

- 6/4/2008 14:04 EDT

Homeless Woman Who Lived Undetected in Japanese Man's Closet for a Year Caught
TOKYO ? A homeless woman who sneaked into a man's house and lived undetected in his closet for a year was arrested in Japan after he became suspicious when food mysteriously began disappearing.
Police found the 58-year-old woman Thursday hiding in the top compartment of the man's closet and arrested her for trespassing, police spokesman Hiroki Itakura from southern Kasuya town said Friday.
The resident of the home installed security cameras that transmitted images to his mobile phone after becoming puzzled by food disappearing from his kitchen over the past several months.
One of the cameras captured someone moving inside his home Thursday after he had left, and he called police believing it was a burglar. However, when they arrived they found the door locked and all windows closed.
"We searched the house ... checking everywhere someone could possibly hide," Itakura said. "When we slid open the shelf closet, there she was, nervously curled up on her side."
LINK

- 5/30/2008 10:05 EDT

Employee Monitoring: It's Not Paranoia.You Really Are Being Watched
It's possible that someone has been reading your e-mails, listening to your phone calls, and tracking your Internet use. No, it's not a foreign spy. It's not even your ex.it's your employer. And she doesn't even need to tell you she's doing it.
Employers can legally monitor their workers however they want. They can log and review all computer activity as long as they own the machines. The most popular method of keeping tabs on employees is to track Internet use: A whopping 66 percent of companies monitor employee Internet activity, according to a survey released in February by the American Management Association and the ePolicy Institute. What are they looking for? Frequent visits to sexually explicit sites, game sites, and social-networking sites like Facebook on company time. Almost a third of those who said they monitor their employees have fired someone for inappropriate Web surfing.
LINK

- 5/27/2008 16:28 EDT

An Atlanta judge on Friday sentenced a child molester to life imprisonment for the sexual assault of two children. However, during sentencing, Superior Court Judge Craig Schwall reserved his harshest criticism for the mother.
LINK

- 5/25/2008 11:19 EDT

Rick Roll Reversed
LINK

- 5/25/2008 03:11 EDT

Feds: Drugs made at kosher meat plant
Federal authorities charged that a methamphetamine laboratory was operating at the nation's largest kosher slaughterhouse and that employees carried weapons to work.
In a 60-page application for a search warrant, federal agents revealed details of their six-month probe of Agriprocessors. The investigation involved 12 federal agencies, including the Drug Enforcement Administration, the Federal Bureau of Investigation and the departments of labor and agriculture.
According to the application, a former plant supervisor told investigators that some 80 percent of the workforce was illegal. They included rabbis responsible for kosher supervision, who the source believed entered the United States from Canada without proper immigration documents. The source did not provide evidence for his suspicion about the rabbis.
The source also claimed to have confronted a human resources manager with Social Security cards from three employees that had the same number. The manager laughed when the matter was raised, the source said.
At least 300 people were arrested Monday during the raid, for which federal authorities had rented an expansive fairground nearby to serve as a processing center for detainees.
The search warrant application said that 697 plant employees were believed to have violated federal laws.
LINK

- 5/15/2008 08:58 EDT


- -

581 total